The Miami Haze, named after the Miami Heat basketball team, is a unique, extremely high Sativa-dominant strain that is gaining popularity quickly. As a descendant of the original Haze strain, which was found in the 1960s Miami Haze has 70% sativa and 30% indica. It is a crossbreed of the incredible strains Mexican Sativa, Colombian Landrace, and Indian Landrace (Haze derogative).
Heredity of Miami Haze
It is important to first study about Miami Haze's parent strains in order to understand it completely. Another sativa-dominant hybrid is Mexican Sativa, a Mexican landrace strain. The term "landrace" refers to a strain that has never been crossed. Customers describe an energizing, focused effect with a flavor and scent similar to timber.
Colombian Landrace, commonly known as Colombian Gold, is a classic strain from which some of the most well-known flavors, like AK-47, Haze, and Skunk, have been created. It is a 100 percent Sativa strain that has a very euphoric sensation.
Indian Landrace, also known as North Indian, is a purely an indica strain with a flavor profile that is reminiscent of tea and the tropics. Most users report increased hunger, a lighter stomach, relief from insomnia, and profound relaxation. The sought-after
Miami Haze is created when these buds combine; when smoked, it has a powerful mixture of all three flavors.
Taste, Scent, & Appearance of Miami Haze
Miami Haze buds have vivid orange pistils and an emerald-like green color. They are also very fluffy and loaded with trichomes. By using cooler temperatures during the growth phase, some growers are able to give the nugs some purple undertones.
Users of Miami Haze experience relief from stress and anxiety due to the drug's head-calming characteristics. Your first hit will start with a blow to the head that will make you focused and ecstatic. This won't last long, though, as its indica side will soon have you couch bound and prepared to relax.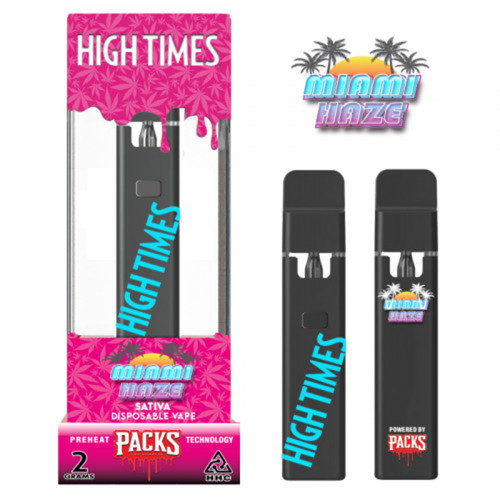 When exhaled, the flavor of this strain is similar to blueberries and menthol, while the scent is earthy and peppery. That will undoubtedly make everyone around you inhale!
Content Levels of THC and CBD in Miami Haze
Miami Haze has some of the highest THC concentrations, averaging between 28 and 30 percent THC. Moreover, it may have CBD concentrations between 0.3% and 1%. Users claim relief from chronic pain, ADD or ADHD, melancholy, chronic stress or anxiety, cramps or muscle spasms due to this strain's high levels of THC and moderate levels of CBD.
Profile of Miami Haze Terpenes
The three main terpenes in this strain are Caryophyllene, Myrcene, and Limonene.
Caryophyllene has a spicy peppery flavor.
Myrcene has a woody, earthy flavor.
Limonene has a citrusy, fruity flavor.
High Times Products at CBD To Store
At CBD To Store, we carry some of the best High Times Delta products in Wholesale. Now you can stock up your store with some of the most exciting disposable vape strains available on our website, including Miami Haze (Sativa), Sour Diesel (Sativa), Gelato Freeze (Indica), and Strawberry Shortcake (Hybrid).
Disposable Vape Features:
2000mg of Live Resin HHC + THC-P
2g Vape Device
Derived From 100% Legal USA Hemp
Contains Less Than 0.3% Delta 9 THC
2018 Farm Bill Compliant
(The contents of this article do not reflect the beliefs of CBD To Store, and the products are not intended to diagnose, treat, cure or prevent any disease.)
Source Article: Author: https://packwoodsdelta8.com/2022/10/25/miami-haze-strain/